The Details of stainless steel studs
MODEL NO.: XC-MDD1721
DIMENSIONS: Outer W: 25mm x L: 25mm x Thickness: 4.5mm FINISH: Machined
FIXING METHOD: Drill and screw TACTILE TYPE: Warning LOCATION: Indoor, Outdoor
MATERIALS: 316 marine grade stainless steel / 304 Stainless steel LUMINANCE RATING: Wet: 35.18
Dry: 38.45
SLIP RATING: R11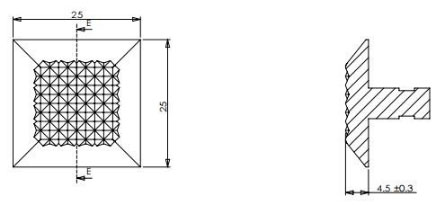 The Advantages of stainless steel studs
1. Factory Directly Sale
2. High slip resistance grade of R11,P5
3. Solid stud is of better quality, stronger and more durable
4. Fast delivery:5-25days lead time. Our monthly output is 2000,000-3000,000 pcs warning indicators.
5. All the size are compliant with Standard, +-1mm for length, +- 0.5mm for thickness, +-0.5 for width.
6. Good surface, All of our products are unification ,symmetrical & shine surface.
7. Environmental, We don't do the electrolytic polishing .All of our products are very shine without any chemical processing.
8. Any quantity are processable. All of our products don't do the mould for the surface . .
9. Any size of the stems are workable without mould. There are many different stems(carpet stem, long screw stem, regular stem) based on the different installation.
Packing: 1000pcs per carton, 37500pcs /Pallet